In this guide, we take you through the easy steps of updating your phone number and changing your password on the GeoPoll App.
Changing your GeoPoll Phone number
The phone number is integral to your GeoPoll account. It's your unique identifier, your username, and how you receive your GeoPoll rewards such as airtime and mobile money. This is why we require you to verify your phone number when registering for GeoPoll.
So, what happens when you change your phone number? Does it mean you start anew? There are many reasons why people change their phone numbers. Maybe you want to move to another mobile provider, you've lost your phone and can't recover your number, or there are privacy reasons you've changed your number. Whatever the case, you don't have to lose your GeoPoll account or credit earned!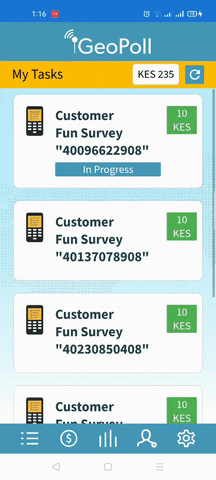 If you ever need to change your GeoPoll phone number, here is the simple process:
On your GeoPoll App, tap the App Settings icon at the bottom of your screen to open settings
Tap "User Profile"
Select "Update" next to your current Mobile number
Enter the new phone number
Click "Update"
Notes:
This is for security reasons and also because we don't change numbers every day ????
For data quality, we limit the number of accounts you can log in to the App on the same device with. It is advisable that you use only one account (phone number), rather than logging in and out with different numbers as this may cause you to be blacklisted. So, please choose your primary phone number if you have several.
The new number needs to belong to the same country as GeoPoll associates your earnings currency to a country.
Resetting your GeoPoll password
If you ever forget your password, or just want to change it for security reasons, doing a reset is easy:
Launch the app (or log out in Settings if you are already logged in)
Enter your phone number
In the password screen, click "Forgot your password? Reset it now."
You will receive a temporary password via SMS on your listed phone number, enter it
Create your new password
Confirm the password (re-enter it)
Click Submit
Notes:
You only need your password on the GeoPoll App. You don't need a password for SMS or link surveys.
Use a secure password.
—
As always, if you have problems making these changes or other issues with your GeoPoll Community Experience, don't hesitate to get in touch with our support team.