A majority of  Sub-Saharan Africans do not trust online shopping sites, this is according to a recent GeoPoll  survey conducted in 5 African countries; Kenya, Uganda, Nigeria, South Africa and Ghana on online shopping following a Black Friday frenzy seen in Nigeria, Kenya and South Africa.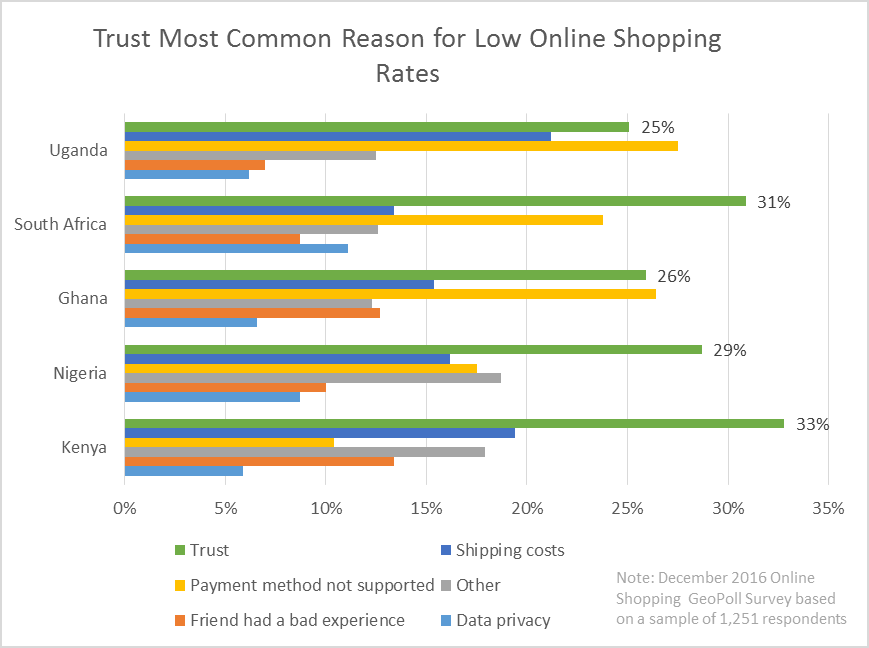 According to a recent KPMG report, in seven Sub-Saharan countries, e-commerce makes up one to three percent of GDP, and is predicted to make up 10 percent of total retail sales in key markets by 2025, with 40 percent annual growth over the next 10 years. The total retail economy is projected to grow rapidly, along with the population as a whole and its spending power per capita
In November this year, the words 'Black Friday' were trending keywords on Google in Kenya, Nigeria & South Africa in the last week of the month just before the American Thanksgiving holiday.
For a long time, the American Black Friday sale has often been viewed in Africa as a very foreign concept. On 17th November, a week before Black Friday, we conducted a Rapid Poll using the GeoPoll mobile application asking Kenyan respondents if they knew about the Black Friday Sale and if they would be participating.
Many were not aware and the few that were did not have disposable money to spend. This short poll among Kenyans led us to conduct this survey among Africans in the Sub-Saharan countries that have exhibited some growth of ecommerce. We sought to find out if, by adopting the Black Friday sale concept, African E-commerce business have managed to somehow overcome the numerous challenges facing the nascent industry.
Experience with online shopping
South Africa, Nigeria & Kenya are the leading countries in online shopping in Sub-Saharan Africa. According to our survey, In South Africa, a majority (60%) buy items online every few months. This is the same in Kenya (45%) and Nigeria (66%)
70% of Kenyans and Nigerians, and 60% of South Africans have at one time tried to buy something online, however, most Ghanaians (55%) and Ugandans (51%) have never bought anything online. According to the NextWeb, there is a direct co-relation between access to the internet and the rise of online shopping.  South Africa, Nigeria and Kenya have the highest levels of internet and smartphone penetration in Sub-Saharan Africa according a 2015 Pew Global research survey titled Cellphones in Africa: Communication lifeline
Although many have tried online shopping, in all other countries except South Africa, a majority only tried it once. Among the top reasons sighted why many in these 5 African countries do not frequently use online shopping sites are; lack of trust, shipping costs, unsupported payment methods and because a friend had a bad experience. Other reasons filled were lack or reliability of some sites in delivery and the purchase process. Others feel that there is no need as the items are readily available at their local store.
Jumia not the King in SA
According to the survey, Jumia is one of the most known online shopping sites in sub-Saharan Africa. It is however not as popular in South Africa and Ghana as it is in other countries. Most South Africans shop online either at Bid or buy, Takealot, Zando or Spree.  In Ghana, Jumia competes for the top spot with Amazon with Alibaba coming in a close 2nd. In Nigeria, the number two site after Jumia is Alibaba. In Kenya, the number two site is Kilimall.
Payment Methods
The change of tact by online shops on payment methods has seen a significant impact in the space. According to our survey, a majority of shoppers in Kenya, Nigeria and Uganda paid on delivery for items bought online. However, in South Africa, most shoppers (50%) prefer to pay using their debit card and a further 26% use their debit card for online purchases. Cash on delivery in S.A is also the preferred mode of payment at 20% compared to mobile money.
In Kenya where mobile money is hugely popular, it is the next preferred payment option (42%) after cash on delivery. This underscores the distrust most shoppers have with online stores. Most would rather pay once they have actually received the item.
Logistics & customer satisfaction
According to a New Yorker article on e-commerce in Africa, Motor bikes have made a huge impact on the on delivery of goods by ecommerce sites. Due to this, many online shoppers are happy with delivery speeds in all the 5 countries.
Of all the things customers liked about their shopping experience, delivery and quality ranked among the top reasons for customer satisfaction. This is closely followed by cost.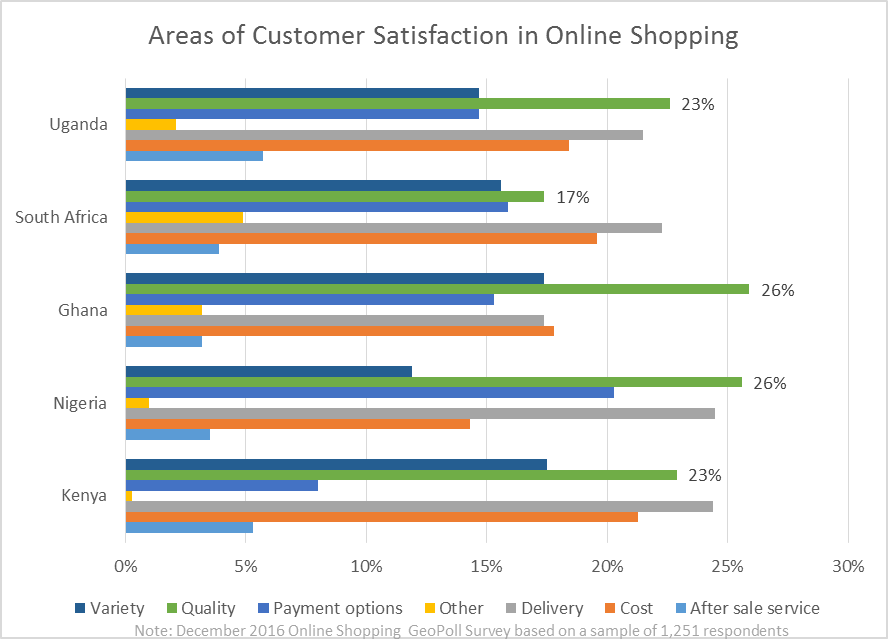 The Concept of Black Friday
Last month, major African ecommerce sites such as Jumia, as well as some brick and motor stores participated in the American Black Friday sale. According to our survey, many Africans now understand the concept of Black Friday although it's a concept that is yet to pick due to the challenges that ecommerce generally faces in Africa, namely, addressing, payment methods and trust as seen in our survey. There was some interest for this year's sale. The term Black Friday was among the top Google trends in Kenya, Nigeria and South Africa around the American Thanksgiving holiday with many Africans in these countries searching online for stores that had offers.
Black Friday & Cyber Monday Sale by Country
In Kenya, 55% of respondents participated in the Black Friday & Cyber Monday Sale with most buying mobile phones.  The most popular online store for Kenyans for the sale was Jumia which took 55% of online shoppers. In Nigeria, 60% participated in the online sale with 54% buying phones on Jumia.
In Ghana where the concept of Black Friday sale is yet to catch on, a majority (61%) did not participate in the sale. Although most online shopping sites were keen to sell beauty and accessories, clothing & footwear and TV sets, the items did not pique the interest of many online shoppers except in South Africa where most online shoppers went for Clothing (31%), beauty & accessories (24%) and household items at 24%.
Although most of the popular online stores in Africa focused mostly on electronics in their last sale, items like bicycles, power adapters, games, wedding gowns and manual sewing machines made it to the list of items bought during this period.
Black Friday sale timing
According to our survey, a majority of the African's in the 5 countries did not have enough money to spend during the Black Friday sale which happens on the fourth Thursday of November and this year round it started on November 27th. Of those who did not participate in the sale, a majority said they did not have enough money. The other reasons given for not participating was lack of awareness and lack of time to actually check out what the stores had on sale.
Due to the lack of awareness and the bad timing, most did not spend more than 100 USD in purchases
Black Friday Vs Christmas
Christmas shopping in December is still the most popular holiday activity in Sub-Saharan Africa. Most of the respondents we asked, (75%) said they would shop more if Black Friday sales were during the Christmas period.
When we asked where they would prefer to shop if physical outlets participated in the black Friday Sale, a majority said they would prefer to shop online.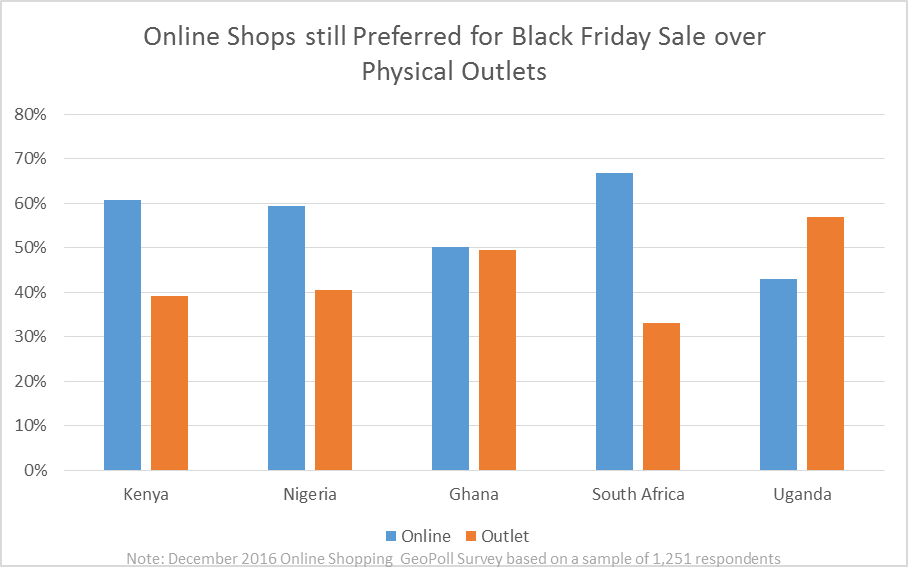 According to Quartz, E-commerce businesses are simply fighting to stay afloat right now. As seen in our survey, there is still prevalent lack of trust in ecommerce sites. As noted by Quartz, even Amazon took years to turn a profit. The serious questions being raised however are on exactly how quickly Africa's consumer class is actually growing.
The GeoPoll survey was conducted using the GeoPoll mobile application to 1,251 respondents in Kenya, Uganda, South Africa, Ghana and Nigeria.