Each month,GeoPoll conducts a 2,800 respondent media measurement survey in Liberia for the USAID Liberia Media Development (LMD) Program. LMD's goal is to enable, equip, and empower local media to access the tools and knowledge to increase their sustainability and improve their professional skills and standards. A lack of accurate data on media viewership and listenership exacerbates the financial sustainability of many media outlets because they are unable to use audience measurements to attract advertisers and investors. By harnessing the power of mobile data collection, GeoPoll provides local media with data and insights never previously understood.
On October 13, 2016, GeoPoll presented at the quarterly LMD Media Market Forum in Monrovia, Liberia. The forum's purpose is to gather approximately 30 stakeholders in Liberia's independent media environment to develop a strategy for improving the quality and sustainability of media. GeoPoll's media measurement data is used to inform stakeholders and foster discussions on improving media in Liberia. Participants of the forum included media owners, advertisers, academics, and representatives of nongovernmental organizations and international aid organizations.
During the forum, GeoPoll's Solum Adoi-Elaigwu presented media measurement data gathered monthly from May through September 2016. The presentation summarized radio listenership and television viewership of a nationally representative sample across all 15 Liberian counties.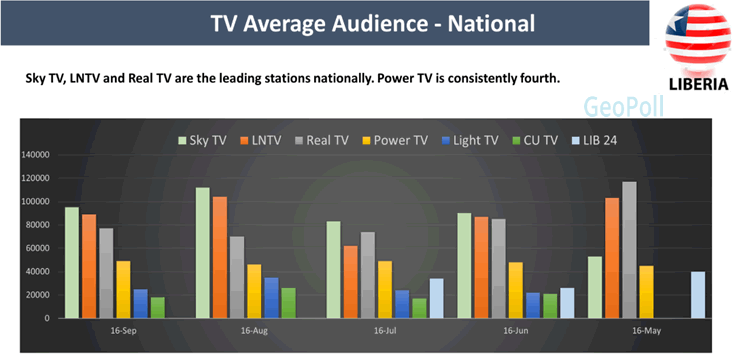 The data was disaggregated by age, gender and the time of day listenership and viewership occurred. The data and accompanying analysis equipped stakeholders with an improved understanding of media audiences and market trends. For example, by evaluating five four-hour recall time periods in a day, GeoPoll was able to identify Real TV with the highest audience viewership during prime time, or 6-8pm in the evening. TV viewership also differed among men and women with men preferring Real TV and women watching more programs with LNTV.
This information and insight is the first time independent media owners have data on audience viewership. GeoPoll will continue to conduct monthly media measurement surveys and contribute to LMD's quarterly media market forums over the next year.
Overview of GeoPoll
GeoPoll is the mobile surveying platform of Mobile Accord Incorporated (MAI), a U.S.-registered small business. We establish relationships with mobile network operators (MNOs) in each country of operation to send surveys to subscribers over their own networks. Participation is always free to the respondent, reducing any economic barrier, and the respondent receives an incentive for participation in the form of airtime credit deposited to his/her mobile account.
Our platform provides real-time data and information that can be used for activity design, adaptive program management, and monitoring and evaluation. We are currently implementing more than 25 projects in food security, health and supply chain management, governance, and impact measurement of service delivery interventions. Through our private sector partnerships, collected data is used by the worlds' leading brands and marketing agencies to make better decisions about sales, programming, and advertising in the largest emerging markets. Our overnight media ratings tool alone collects audience measurement on TV, radio, print, and digital use through 10,000 daily panel-based mobile surveys.