With the Mobile World Congress, the biggest mobile-centric conference of the year, taking place in Barcelona this week, it is easy to say that all eyes are on mobile. But what trends will emerge from the biggest mobile developers in 2014? While in the Western world we are talking about new technologies such as wearable computers, waterproof phones, and new mobile applications, many big mobile players are also focused on improving the basic mobile phone, which is still what the majority of the world uses to communicate.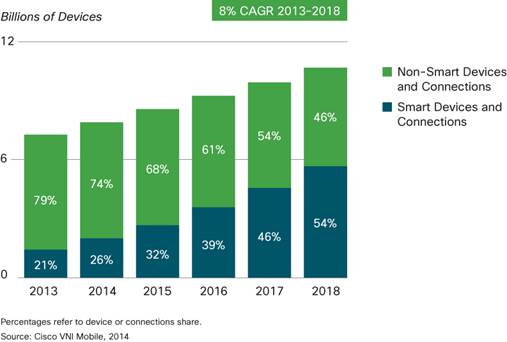 Earlier this month Cisco released a report on the state of the mobile world from 2013-2018, which states that this year the number of mobile connections worldwide will surpass the total population. That's over 7 billion mobile phones, tablets, and other devices, with more being added each day. But currently, only 21% of those connections are so-called "smartphones", and while access to data services in regions such as Africa and India is expected to increase over the next few years, due to the cost of devices and especially data plans, basic phones without internet access will most likely remain popular. Although sending a text message or making a call are now unremarkable features on smartphones that can play games, track movement, and give directions, in fact these very features have many capabilities.
In Kenya, for example, where much of the population is unable to open traditional bank accounts, many have turned to mobile banking, done through text messages. Through this creative use of a quite simple technology, individuals can save money, make cash-less transactions, and transfer money between accounts. In India, informational videos and news items are made available through audio recordings which mobile phone users can dial into.  In addition to providing a means of communicating, mobile phones also give those in remote areas access to disaster relief services, and projects by organizations such as the UN are able to use mobile devices to diagnose health conditions, and remind patients to take their medication.
Over the next months and years, it is clear one major area of discussion in the mobile world will be around increased access in the developing world; not only to basic mobile phones, but also to the internet and even smartphones. At the Mobile World Congress both Nokia and Mozilla announced smartphones with web browsing and application capabilities aimed at the developing world, at price points of $40 and $25 respectively.  While still a far cry from many of the higher end smartphones unveiled this week, such as the newest version of the Samsung Galaxy, these devices demonstrate the interest big companies have in increasing mobile and smartphone penetration in the developing world.
What remains to be seen is how users will use the phones to actually connect to the web- whether some companies will provide internet access for free with purchase of a device, or if users will still have to invest in a costly data plan. As Facebook's Mark Zuckerberg said in the MWC keynote, cheaper phones don't equal cheaper data plans, and he himself is working on a way to provide a free "dial tone for the internet". For now though, organizations should continue to focus on what can be done with the basic mobile phone while concurrently developing more advanced phones; after all, if text messages can act as banks, imagine the innovations that have yet to be made.
Top image credit: Irita Kirsbluma, licensed under Creative Commons.
Bottom image credit: Cisco Visual Networking Index.