The two World Cup Semifinals were played this week, and below are the viewership numbers, which we compiled based on GeoPoll's daily mobile surveys which measure television and radio viewership. We found that the first game, where host nation Brazil was easily defeated by Germany 1-7, was more popular across Ghana, Kenya, Nigeria, Uganda, and Tanzania, than the second semifinal, Argentina vs. The Netherlands. This is not alltogether surprising, as in our pre-World Cup survey we found that out of 10 African nations, 36% thought Brazil would win the World Cup, followed by Germany at 11%.
Across all 5 nations, the first semifinal was viewed by 22.5 million, while the second was viewed by 18.4 million. The difference was especially pronounced in Kenya, where 3.7 million watched the Brazil-Germany match, and only 2.0 million watched Netherlands-Argentina. 3.7 million represents about 8% of the total Kenyan population, and 17.8% of Kenyan adults who are regular media consumers.
Below is a graph taken from our Audience Measurement Service, which shows viewership numbers in Kenya. KBC, not normally a popular prime-time channel, is the only channel airing games in Kenya, and as you can see, the peaks are dramatic. The full semifinal numbers, broken down by country, are below.

We have also been asking users in 10 African nations who they think will win the World Cup every day, which enables us to see a wider view of African perceptions of the games. The below shows how perceptions have changed over time: most notably, until Brazil's semifinal defeat over 30% of respondents indicated they believed Brazil would win. Africans also had a higher perception of the Netherlands than Argentina, although ever since Germany showed their strength in the first game against Ghana, Germany has also been a popular choice to win the entire World Cup.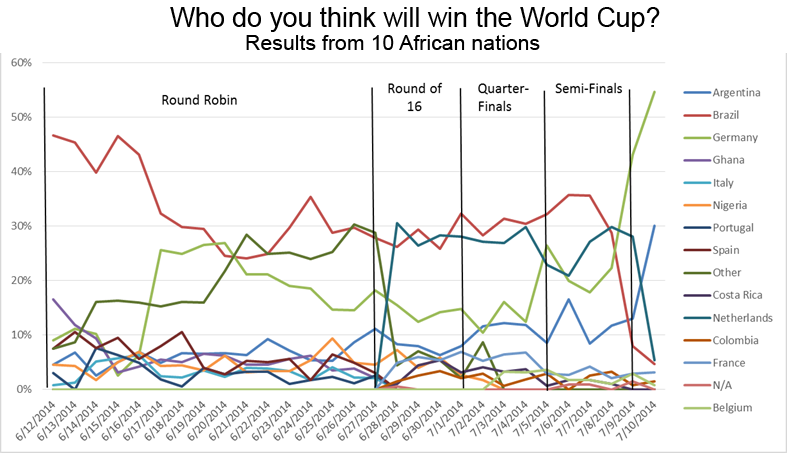 Semifinal viewership numbers:
Germany-Brazil
Total: 22,455,000
Ghana: 2,435,000
Kenya: 3,725,000
Nigeria: 12,037,000
Tanzania: 3,331,000
Uganda: 927,000
Argentina-Netherlands:
Total: 18,431,000
Ghana: 2,525,000
Kenya: 2,016,000
Nigeria: 10,501,000
Tanzania: 2,621,000
Uganda: 956,000
Want to sign up for a trial of our Audience Measurement Service and have access to the numbers presented here and interactive dashboard?
{{cta('0293b5b1-1898-4c0b-8e61-2807e80ea331')}}