Using the daily data collected through GeoPoll's Media Measurement Service, GeoPoll has analyzed the top TV stations in Ghana for Q3 2016. We examined both ratings and share for the top stations in Ghana. The below chart shows the average ratings for the top 10 stations during the peak hours, from 19:00 to 22:00.
To learn more about KGMM, see a demo of the system, and sign up for an account please contact us.
Top TV Stations
UTV, Adom TV, and TV3 continue to compete for ratings from 7 to 8pm. UTV continues to own the highest ratings from 8 to 9pm. From 9-10pm, UTV maintains the top spot, averaging a 4.67 rating. The highest average rating during primetime is on UTV between 8:30-9pm with a rating of 5.73. Adom TV has improved in its primetime ratings compared to Q2, now averaging in the second position ahead of TV3, but still behind UTV. TV3 still captures the highest rating from 7 to 7:30pm.
GeoPoll also examined average share across the entire day during Q3 2016.
UTV lead the way averaging 19.9% of viewers, followed by Adom TV at 16.7% and TV3 in third with 15.2%.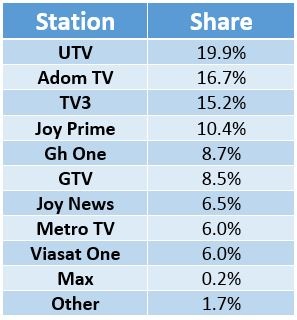 Top Radio Stations
The graph above shows that Adom FM and Peace FM continue to lead in ratings at the national level. Citi FM is consistently third, followed by Joy FM which averages fourth. Peace FM achieves its highest rating between 6-8 AM with an average rating of 3.36 nationally.
GeoPoll also examined average share for Q3 2016:
Peace FM moved into the top spot, averaging 9.2% of all listeners, followed closely by Adom FM with 8.8%. Citi FM captured 4.7% average share, and Joy FM achieved 4.1%. The high share % for other stations outside the top 10 indicates the large number of radio stations in Ghana, which broadcast across the country at a regional level.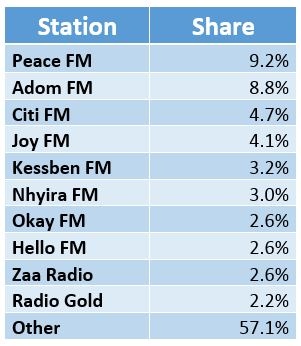 To get a complete breakdown of Ghana media data, including ratings by region, day-by-day data in 30 minute time blocks for TV and 2 hours for radio, and filtering by demographics and psychographics, please click below to subscribe or see a demo of Kantar GeoPoll Media Measurement.
{{cta('0293b5b1-1898-4c0b-8e61-2807e80ea331')}}