In 2015, GeoPoll partnered with RTI International to conduct a survey among nearly 500 mobile phone respondents to understand the prevalence of lymphatic filariasis (LF) in Mtwara Municipality in Tanzania. Lymphatic filariasis is a parasitic disease that impairs the lymphatic system and can lead to the abnormal enlargement of body parts, causing pain, severe disability, and social stigma. 
Currently, little accurate data exists to determine the LF morbidity burden. But an accurate estimation of the prevalence of LF occurs at a low prevalence (<1 percent), therefore requiring large sample sizes and making population-based clinic surveys costly.
In order to better understand the prevalence of two key LF conditions (lymphedema/elephantiasis and hydrocele), GeoPoll and RTI partnered to conduct a mobile phone-based survey in Mtwara Municipal Council in Tanzania. Mtwara Municipal Council was selected because it has one of the highest LF morbidity rates and approximately 60-70 percent of the estimated 108,000 population are mobile phone subscribers.
We estimated that 384 completed surveys were required to assess the prevalence of lymphedema (both male and female) and hydrocele (male only) morbidity. GeoPoll conducted the survey across its database of 16 million mobile subscribers in Tanzania. Participants were randomly selected, asked to express consent in participation, and opted to take the short message service (SMS) survey in English or Swahili. All participants who completed the survey received an airtime top-up credit of TZs500. A total of 492 respondents (384 male and 108 female) completed the survey over a period of four days
Table 1 below details the prevalence of lymphedema and hydrocele. Of the 492 completed surveys, 20.9 percent of respondents reported signs of lymphedema; 20.6 percent of men (384 of completed responses) reported signs of hydrocele.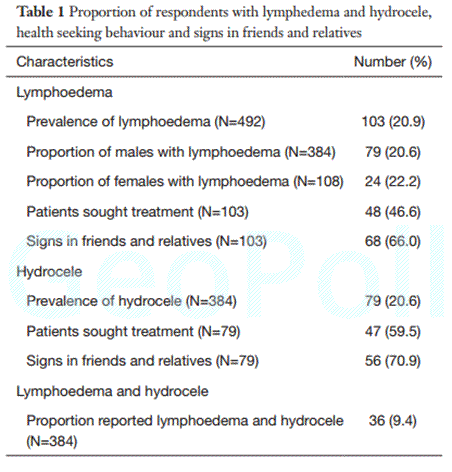 The survey of LF characteristics demonstrates that mobile phone methods can be rapidly deployed to implement morbidity studies in endemic settings. While there are limitations to the use of mobile-based studies (such as bias and reliance on self-reporting), this approach quickly and inexpensively assists development and health practitioners identify lymphedema and hydrocele morbidity at the community level and critical evidence of where action and further investment is needed.
Further information about findings from this study can be found here